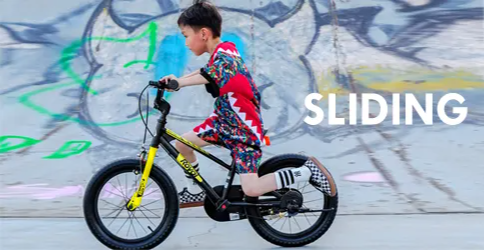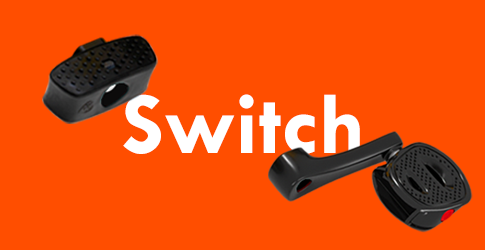 What's the best way to learn to ride a bike? The answer was the training wheel for an extended time. In the past decade, parents found balance bikes a much better solution for the quick and painless transition to a pedal bike. Here at RoyalBaby, we always take a step further, finding a new answer to the question. 
Balance bike or training wheel? 
Let's think about the balance bike and training wheel for a second. Training wheels are inexpensive and can be used on the same bike until kids are confident enough to get rid of them, but it takes a long time for kids to master biking and can be challenging to handle for beginners. Balance bikes are more intuitive for kids, and the transition to pedal bikes is easy-peasy. The only problem is that toddlers are growing and learning so quickly that they will outgrow a regular 12-inch balance bike in about a year. Parents will have to pass it on to other kiddo and purchase a new pedal bike, which is a little bit tedious and will spend more.
The fundamental idea behind balance bikes and training wheels is to let toddlers get a hint of balancing. So what if we can take advantage of both? A bike that can slide as a balance bike also gives the rider the same confidence from training wheels without holding them back. Here we have our answer, the RoyalBaby EZ Bike. 
Our EZ bike allows kids to ride as a balance bike first to gain confidence and transform into a pedal bike in a blink of an eye, all in one incredible EZ bike. Amateurs can master biking as soon as half an hour.* (Data collected from surveys of pre-launch customers.)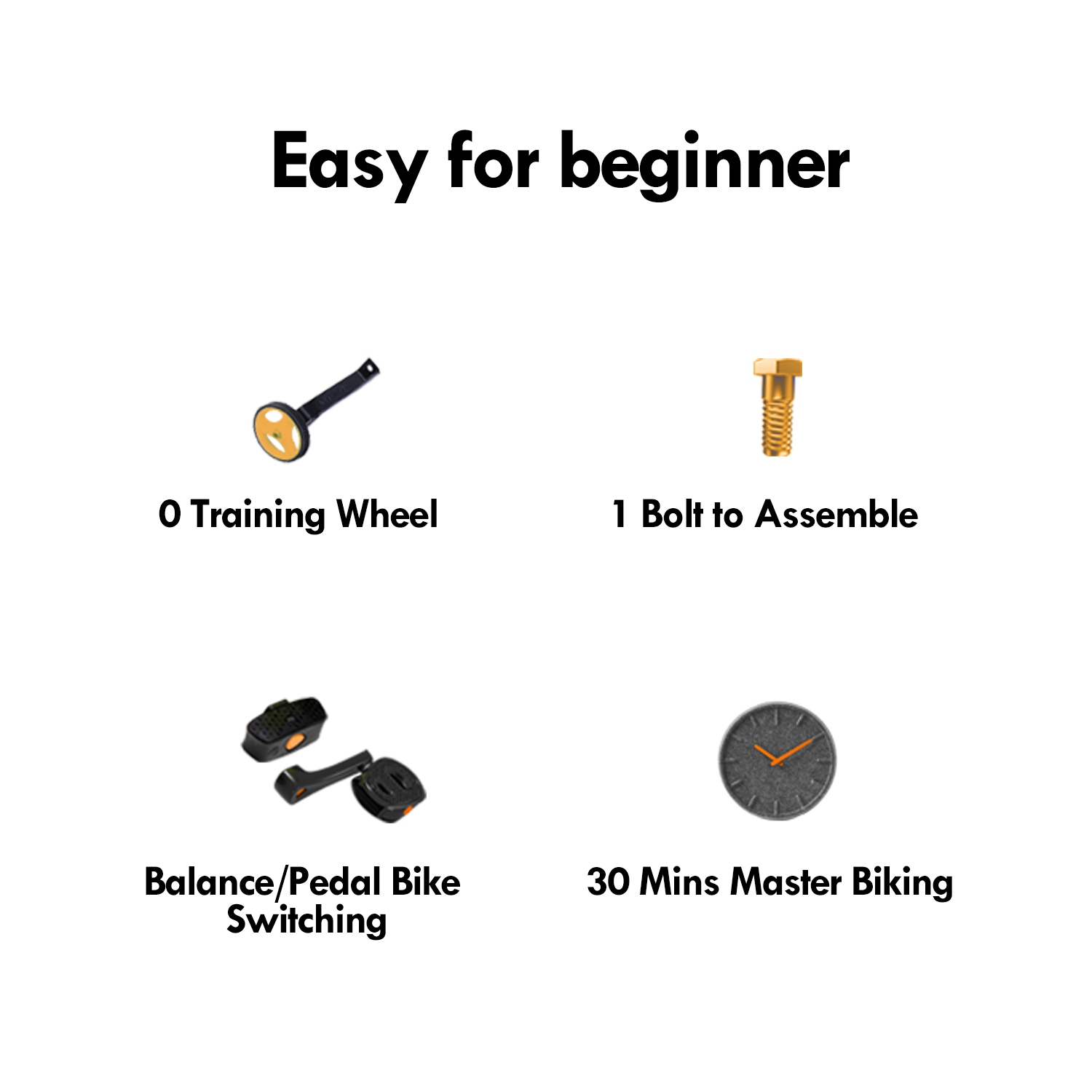 The core innovation of the EZ bike is the quick-release crank pedals and footrest. This mechanism allows parents and even kids to switch the EZ bike between a balance bike and a pedal bike; without any tools and with just a click of a button. This is the distinctive difference compared to other 2-in-1 bikes in the market. 
We lower the bottom bracket position closer to the ground so that even toddlers can have their feet touching the ground. It is essential for toddlers to feel confident at the beginning. 
The lightweight frame design makes it as accessible as a balance bike. Compared to a same-size average bike, it is up to 15% lighter(approximately 2-4lbs).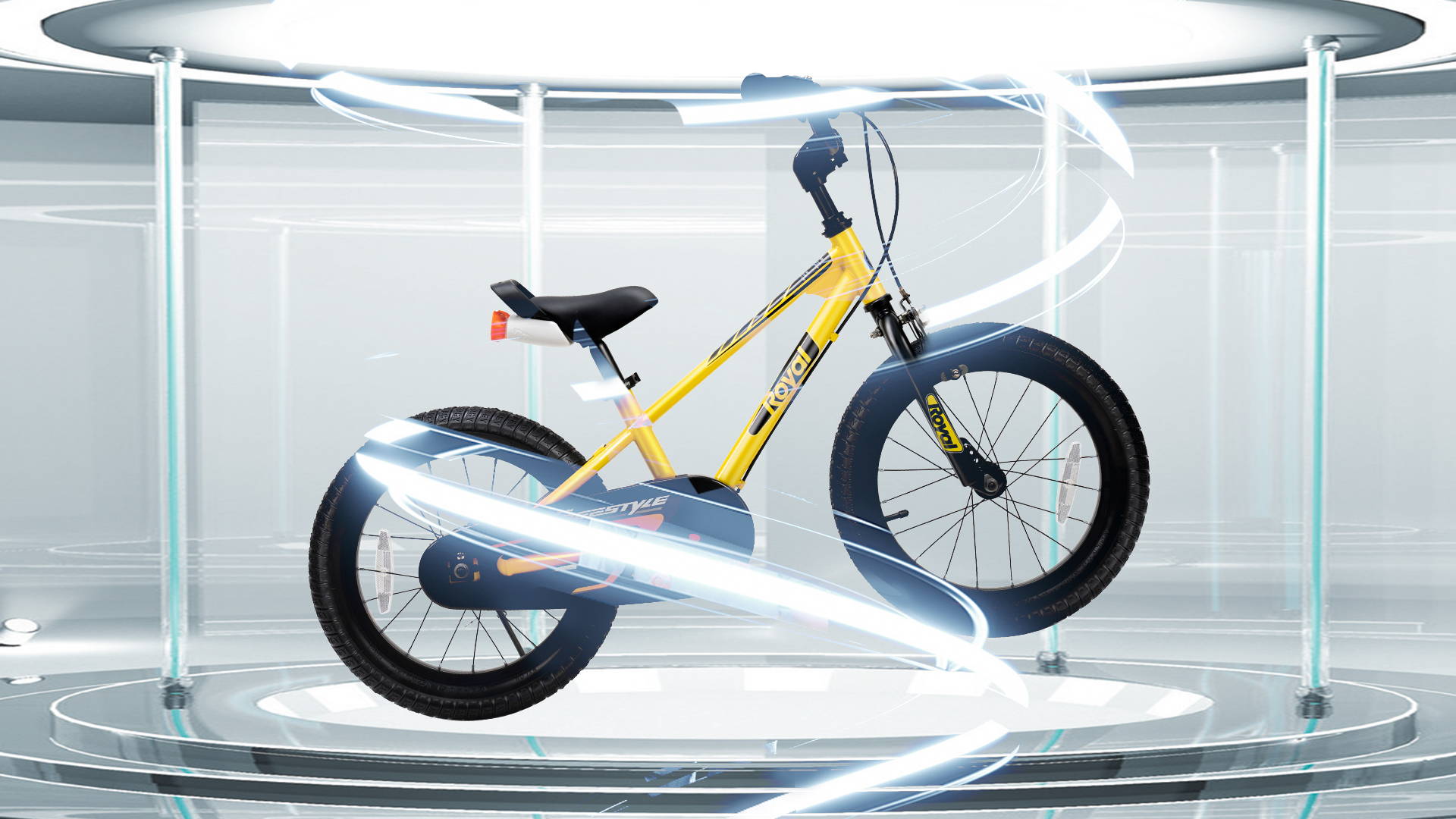 A Phillips screwdriver to tighten the stem bolt is the only tool required to complete the assembly. It is not just easy for toddlers to learn but also easy for parents to put together. 
We want to build a bike that can last longer and provide more enjoyment to our little riders. The EZ bike can save the hassle of buying both a pedal bike and a balance bike and accompany the little rider longer. The EZ bike has the first ever customizable module, like the jet engine water bottle and stem cover, to match the rider's personality. Tons of fun is coming your way!